Code 0 / Screecher
Code 0 Specifications
Code 0/Screecher Design Process
Catamaran type Code 0's are called Screechers and specially made for catamarans. Screechers are designed a little more flat than a code 0, due to the design of the Catamaran and their sails. Fareast sails Screechers are fully customized with your sailing style in mind. Screechers are radial cut for optimal performance. Each sail is assembled in an organized data sheet for you. You will then be able to review the chart and make changes. Once you approve the chart, we draw each sail and we provide you CAD drawing of your sail(s). You can again review and make changes. Once you approve the drawings, we cut your sail. The process is quite easy.
Screecher Design
Screechers are a hybrid between a spinnaker and genoa, tending more toward the headsail, it generates headsail-type. Screechers are made with premium sail cloth from Challenge, Contender, and dimension-polyant sail cloth for both inshore and/or offshore applications. Our Screechers Designs provide an excellent all-around performance sail. Screechers designs consist of both nylon and laminate cloths.
Depending upon the fabric and boat design, the Screechers can be carried from as close as 45 degrees apparent wind angle (AWA), to as wide as 75 to 110 degrees. Mid girth measurement 60-65% of the foot
Screechers can be also Optimized to 60 - 140 degrees apparent wind angle (AWA), Approximately 70-75% of the sail area of a full-size spinnaker. Mid girth measurement 75-85% of foot length.
Our Screechers are CAD drawn and presented to you before production
Screechers come with 4 color option standard (certain cloths have limited color choice)
Every Code are designed with 3 step zig stitched (triple stitching) standard
Options Include: Piston Hanks, Numbers, Torque Rope, and Colored logo designs
Blue water finish for ocean passages  
Sails are full radial Design Standard
Screechers can be designed for top down furler with Vectran or Polyester Torque Ropes built into the luff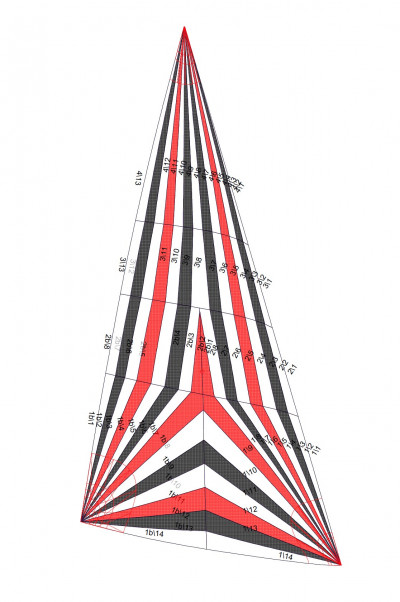 Code 0 Cloth
Body Challenge Sail Cloth: Fibermax (.75 oz and 1.5oz) , Elite Racing Nylon
Contender Sail Cloth: Maxlite (1.5oz), Nylite (.90oz), Superlite, Superkote, Stormlite, Maxikot
Dimension-Polyant – CZ Sliver, CZ GP, CZ White