Cross Cut, Tri Radial, Carbon 4D Membrane
Mainsail Specifications
Racing Mainsail Process
Fareast Sails Cross Cut, Radial, String (tape), and Load Path sails are fully customizable and made for sailors who are looking for Elite Performance, along with durability and longevity. We offer Racing sails in Woven, Polyester, Pen, Aramid, Carbon, string (tape), and load path styles. For extra protection we have DP-Lite Skin, and single- or double-sided taffeta.
Each sail is assembled in an organized datasheet for you. You will then be able to review the chart and make changes. Once you approve the chart, we draw each sail and we provide you CAD drawing of your sail(s). You can again view and make changes. Once you approve the drawings, we cut your sail. The process is quite easy.
Racing Mainsail Design
Fareast Sails Racing sails are built with premium cloth from Challenge, Contender and dimension-polyant cloths. Racing Woven Materials provide 10 to 20% less stretch due to the sail cloth and the efficiency of the panel layout. Polyester styles offer up to 50% less stretch than cross cut. Composites such as carbon or aramid style provide the best stretch resistance, and can be made with lite skin or taffeta.
Each Mainsail is CAD Drawn and presented to you before production
Racing Sails are 3 Step Zig Zag stitched with 4 points (triple stitched) standard

Mainsails can be designed with partial and/or full battens, or batten-less for furling mainsails. Batten pockets can be Velcro designed for easy access or tie-in option.
We offer both round and flat battens
Mainsail Options include: Overhead leechlines, Flattener Reefs, Cunningham, Battens Holders, Headboard, Numbers and Logos.
We offer offshore 2-ply on the Leech, Tack, and Clew, and uv thread – please ask about our blue water finish for ocean passages
Optional Premium Hardware from: Rutgerson, Selden, and Ronstan
Lite Skin and taffeta options are available for extra durability
Racing Sails can be made for both Mono and Multi Hull Vessels.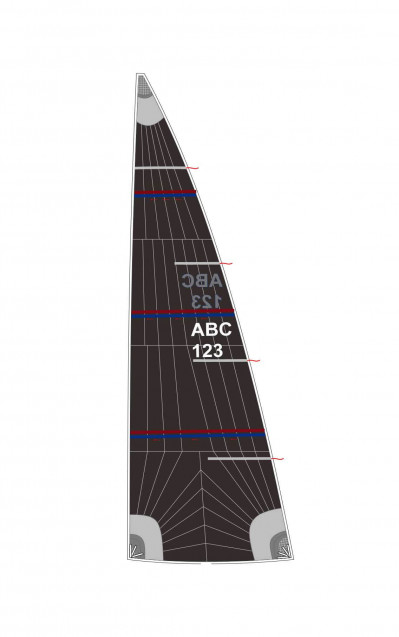 Racing Sail Cloth
Challenge Sail cloth – Warp Drive, Matrix Weave

Contender Cloth – FIBERCON® PRO WARP TECH
dimension-polyant – PX, PE, BX, Carbon GPL (available lite skin option), Carbon Sport (available lite skin option) CXI/DXC (with double sided taffeta), Cross Cut Flex, HydraNet Radial

Full Carbon String Sails 3D Membrane available with optional DP Lite Skin